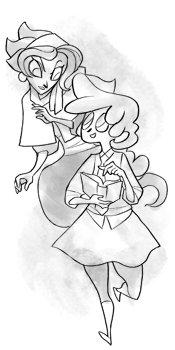 Cast
Lee is an aspiring zoologist who knows just about everything there is to know about magical animals. If you're ever stuck in a giant's cave, surrounded by undead spiders, with nothing in your pockets but a bottle cap and a piece of string, Lee might be the only person clever enough to get you out of there in one piece.
Maddy is an ex-adventurer. She was once the most famous thief alive. She had daring swordfights, swung from vines, and rescued royalty. Now, centuries after her mysterious disappearance, her restless spirit is bound to an ancient book about her adventures, which Lee is never found without.
In every episode, Lee and Maddy meet new friends and enemies, and solve mysteries involving magical animals. Read more about our ever-expanding cast on our wikia (coming soon!)

Creators
The Field Guide To Magical Animals is written and drawn by Joe Wierenga. Joe is a storyboard artist living in Los Angeles, CA. Since he was a little kid he was always dreaming up these stories, and he's so glad you guys are here to see this one.
The Haunted Tree Grove is a joint production between Joe Wierenga, Kojo Kumah, and Jason Y. Min. Kojo did the coding, and Joe did the art. Additional technical development was done by Jason, who also helps with story editing. The three of them worked together for years in the New York City, making video games and solving mysteries. Computer science mysteries.
See more from Joe at joewierenga.com
Find more from Kojo at kojokumah.com
Get in touch with Jason at jason.y.min@gmail.com
Support Us!

There are lots of ways you can help this story unfold. The best way is to tell your friends! Get them reading! The more people demanding to see more Field Guide, the stronger this world becomes.

Peruse our store for posters and tshirts. All procedes go to supporting the creative minds producing the work.

Donating to our paypal tip jar helps speed updates. If we meet our monthly goals, we can hire an inker and update way more frequently!